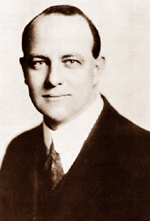 About PG Wodehouse
Widely considered the greatest twentieth century writer of humour, Sir Pelham Grenville -PG- Wodehouse (1881-1975) was prolific in a number of fields, including plays, novels, screenplays, short stories, and song lyrics, working in musical theatre with Cole Porter, Guy Bolton, and Jerome Kern.
Author of nearly a hundred books, Wodehouse's work continues to have countless fans and remain in print internationally in many languages. Some of his most popular work, such as the
Jeeves and Wooster
stories, and the
Blandings Castle
stories, have been adapted as highly successful television series.
Born in England, Wodehouse spent much of his life in the United States, eventually becoming a citizen in 1955.