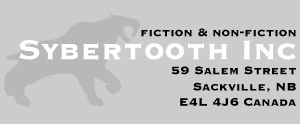 Sybertooth Inc is a publisher of fiction, non-fiction, poetry, and plays. If you should have any question about our publications, please click here to contact us.

Click here to return to the index page.


Me Too
by Donald Jack
£12.00 UK • $18.00 US • $18.00 CAN
ISBN: 9780981024486 / 330 pp
December 2010

Back home in Gallop to set up an aircraft company, Bandy finds himself having to get involved in all sorts of unsavoury business, from rum-running to running for Parliament, before he finally finds himself running from the law...

About the Author

Donald Jack
won the Leacock medal for humour three times for volumes of his popular
Bandy Papers
series. He served in the RAF from 1943-1947, later moving to Canada in 1951. In addition to the Bandy Papers -- one of the best-loved series in Canadian Literature --he has written a history of medicine in Canada, and numerous scripts for films, radio, and the stage. For more about Jack and the Bandy Papers,
visit the Bandy website
.