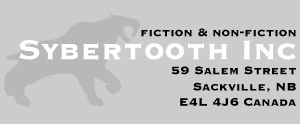 Sybertooth Inc is a publisher of fiction, non-fiction, poetry, and plays. If you should have any question about our publications, please click here to contact us.

Click here to return to the index page.


Torrie and the Dragonslayers
by K.V. Johansen
£5.95 UK • $9.95 US • $10.99 CAN
Paperback ISBN: 9780981024400
156 pp / Sept 2009 (PB), Apr 2013 (EB)
E-book ISBN: 9781927592021 | $4.99
Once there was a prince who set off on a quest for a magic sword. He ran into a bit of trouble with a sorcerer, who didn't like trespassers, and the sorcerer's wolf-headed guards ....

Once there was a young woman who decided to run away from home ....

Luckily for the prince, who was in her father's dungeon by then, she decided to rescue him first. Luckily for both of them, Torrie came along as well.

Cossypha's father, a reclusive sorcerer, seems to have gone mad. He's done something truly horrible to the servants and, since becoming obsessed with a mysterious Great Spell, hardly even notices Cossy's existence. She's had enough of being treated like a child and forbidden to study sorcery, so when she discovers Prince Rufik in the dungeon, she decides to steal him. Rufik, though he doesn't like being forced to believe in magic, is on a quest for a legendary, dragon-slaying sword. His father's kingdom is being laid waste by a dragon and the Sword Wormbane may be their last hope. Among some of the creatures in the Wild Forest, there's a story that the sword was forged by a sorcerer long ago and hidden, against the day when it would be needed to save the kingdom of Erythroth. Torrie begins to suspect that the story of the sorcerer and the Sword Wormbane is bound up with his own past. Did his friend Wren foresee some terrible fate for him, or why didn't she ever tell him about the sword? Even if they survive the dragon, Torrie and Cossypha may still be bound by Torrie's promise to return to Mistglom Castle and set things right. And a mad sorcerer who can do ... that ... to his servants is not a man to trifle with.
~Reviews~

"Another excellent installment of the Torrie adventures. Johansen has a magical gift for creating delightful tales of ancient lore... Johansen's novels are fast-paced, high action and adventure stories which intertwine strong characters of both sexes with ancient lore and a quest which allows good to prevail over evil. Torrie and the Dragonslayers will have high appeal for both male and female readers..." Rated "E" for Excellent. - Sharon Armstrong, Resource Links

"Johansen has a flair for descriptive language and character development. The plot moves well and has sufficient mini-conflicts to carry interest forward. An enjoyable read worth recommending to your fantasy or medievalist fans, definitely worth adding to the K-8 library." -Susan Ens Funk

Buy K.V. Johansen's
Torrie and the Dragonslayers Online


Indie Bound (USA)

...or order it from your local book shop!
About the Author
K.V. Johansen
is the author of numerous novels and non-fiction books for children, teens, and adults, including
Nightwalker
(winner of the Ann Connor Brimer award),
Torrie and the Pirate-Queen
(winner of the Lilla Stirling award),
Beyond Window Dressing: Canadian Children's Fantasy Literature at the Millennium
(recipient of the Frances E. Russell award), and the
Pippin and Mabel
picture book series (recipient of the Lieutenant-Governor's Early Childhood Literacy award).
Her website is at
www.pippin.ca
~Reviews~
"An excellent read from a delightful series. Definitely recommended to fans of fantasy, adventure, or medievalistic stories."
- Mad Tales