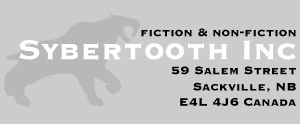 Sybertooth Inc is a publisher of fiction and non-fiction books and CD-ROMs. If you should have any question about our publications, please click here to contact us.

Click here to return to the index page.

Translation Rights
Foreign publishers or agents interested in licencing any Sybertooth titles for translation are invited to contact us regarding translation rights at the address above. Please include details of your company, the title of interest, the language and country of translation, and anticipated print run.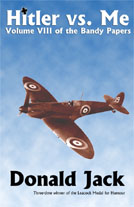 Hitler Versus Me
by Donald Jack
Volume 8 of the Bandy Papers


August 2006 • 325 pp
ISBN 0968802486
ISBN-13: 9780968802489
$16 (US) • £12 (UK) • $19 (Can)
E-book
(epub) published Nov 2015
ISBN 9781927592076
Available from
Kobo Books
US$8.99 • CA$8.99 • UK£4.99

Bandy is back! It's 1940, and the intrepid air ace of WWI is eager to join the fight against Germany. Unfortunately, everyone seems to think Bandy is too old to be flying Spitfires, and should go quietly into retirement to polish his medals and knighthoods. Bandy, however, has other ideas, and uses his friends and/or enemies in high places to manoeuvre himself into the Battle of Britain.

This edition also includes Donald Jack's novelette "Where Did Rafe Madison Go?" Jack wrote the story just as the fate of the Avro Arrow was still up in the air (the first test flight taking place in March '58, and the programme's termination coming only four months after the story was published). In "Where Did Rafe Madison Go?" Jack imagines a future delta-winged descendant of the Arrow – the CF-108 – and takes us through the RCAF court martial that is trying to uncover the explanation for the plane's mysterious disappearance, an incident that even the pilot, Rafe Madison, doesn't understand.

About the Author

Donald Jack won the Leacock medal for humour three times for volumes of his popular Bandy Papers series. For more about Jack and the Bandy Papers, visit the Bandy website.