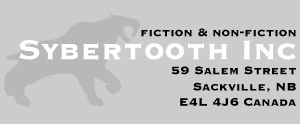 Sybertooth Inc is a publisher of fiction, non-fiction, poetry, and plays. If you should have any question about our publications, please click here to contact us.

Click here to return to the index page.

Translation Rights
Foreign publishers or agents interested in licencing any Sybertooth titles for translation are invited to contact us regarding translation rights at the address above. Please include details of your company, the title of interest, the language and country of translation, and anticipated print run.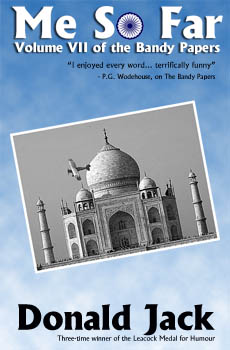 "...a memorable example of wit and adventure filtered through a fine moral screen..." -Books in Canada

"...as uproarious and subversive as the best of Tom Sharpe." -Kirkus Reviews

"Jack's plotting is as exuberantly improbable as ever, his twin gifts for action and comedy on full display." -Quill & Quire

Bandy has finally found a secure post-war job, as commander of the Maharajah of Jhamjarh's new air force. The only problem is, the British Raj are not so happy with him for setting up a rival air power inside British India, and he may need to actually earn his fabulous salary when a neighbouring princely state shows signs of preparing for war...

This edition, the first since 1989, also includes an additional bonus: a comedy address delivered by Donald Jack in 1980 at an Ontario college, proposing a new educational system based on approximation...

Published September 2007
by Sybertooth
Paperback ISBN: 9780973950502
$16 (US) • £12 (UK) • $17 (Can)

E-book ISBN: 9781927592045
$8.99 (US) • £4.99 (UK) • $8.99 (Can)

About the Author
Donald Jack
won the Leacock medal for humour three times for volumes of his popular
Bandy Papers
series. For more about Jack and the Bandy Papers,
visit the Bandy website
.