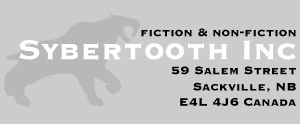 Sybertooth Inc is a publisher of fiction, non-fiction, poetry, and plays. If you should have any question about our publications, please click here to contact us.

Click here to return to the index page.

Translation Rights
Foreign publishers or agents interested in licencing any Sybertooth titles for translation are invited to contact us regarding translation rights at the address above. Please include details of your company, the title of interest, the language and country of translation, and anticipated print run.
The Canvas Barricade
by Donald Jack
April 2007
ISBN-10:
0968802494
ISBN-13:
9780968802496
$16 (US) • £12 (UK) • $19 (Can)

In print for the first time, Donald Jack's comedy The Canvas Barricade was the first Canadian play performed on the main stage of the Stratford Festival (1961). The original cast included Peter Donat, Kate Reid, Jack Creley, Amelia Hall, Zoe Caldwell, and Bruno Gerussi.
Misty Woodenbridge, a painter, has rejected the materialism of modern so­ciety for life in a tent by the Ottawa River, where he lives as carefree as the fabled grasshopper, eating stolen apples and painting masterpieces. But as summer draws to an end, reality rears its ugly head, and Misty must choose between starving in his tent and moving to the city with his fiancée. Meanwhile, his in-laws-to-be smell a cash cow when a mysterious art buyer begins snapping up Misty's work – and naturally they keep the money. Out of kind consideration for Misty's artistic ideals, of course…
About the Author

Donald Jack won the Leacock medal for humour three times for volumes of his popular Bandy Papers series. For more about Jack and the Bandy Papers, visit the Bandy website.