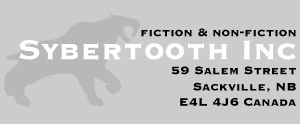 Sybertooth Inc is a publisher of fiction, non-fiction, poetry, and plays. If you should have any question about our publications, please click here to contact us.

Click here to return to the index page.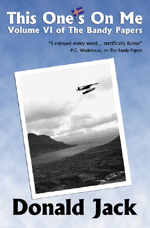 400pp. / Published July 2008
US$18.00 / CAN$21.95 / UK£12.00
Paperback ISBN 9780973950557
E-book ISBN 9780981024462
It's 1924, and Bandy is making a solo flight across the Atlantic in the Gander, a seaplane of his own design. Not for fame though – he's fleeing from arrest for train robbery, from his job as Minister of Defence, and from his would-be assassin and friend George Garanine. From Iceland, to Iraq, to St. Pancreas Hospital in London, Bandy's career has never been more complicated, or his luck more of a roller coaster. When he finds new employment as Deputy Supreme Being of a mercenary air force, Bandy begins to feel that the whole British Empire has a grudge against him. But at least the pay is good…

About the Author
Donald Jack
won the Leacock medal for humour three times for volumes of his popular
Bandy Papers
series. He served in the RAF from 1943-1947, later moving to Canada in 1951. In addition to the Bandy Papers -- one of the best-loved series in Canadian Literature --he has written a history of medicine in Canada, and numerous scripts for films, radio, and the stage. For more about Jack and the Bandy Papers,
visit the Bandy website
.